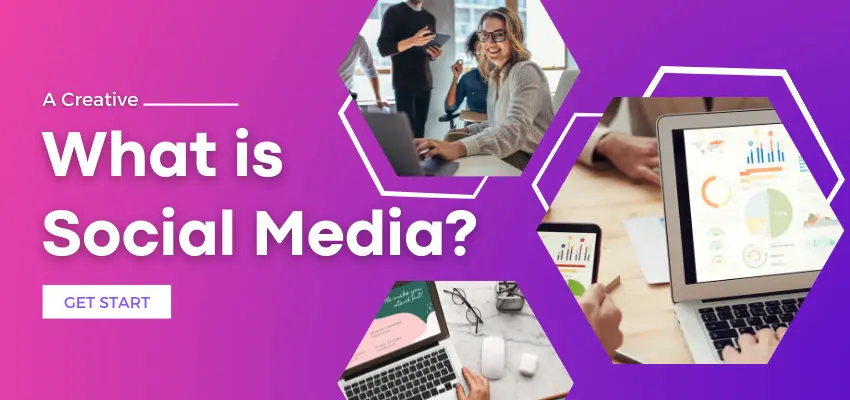 Let's start by defining social media. When we talk about social media it is actually any form of electronic communication, like websites, through which users create online communities and relationships. Users can also and share all sorts of information from personal messages, ideas, news, images, videos, any type of content.
There are hundreds of social media sites, but they tend to fall into some broad categories. The categories that we're going to look at are currently defined as the most common types of social media platforms. However, there are additional types of social media sites that as social gaming sites. Games to the multiplayer online world, a simulated environment created that gives a feeling of attachment. This is where people do everything from role-playing games to playing poker. There we do see people sharing information, and we do see them building relationships.
---
Types of Social Media Platforms
In this article, we're going to be focusing on the types of social media sites that apply most in the business world. Let's get started with our topic by discussing the types of Social media platforms present in today's era:-
1. Blog
So let's start by defining blogs.
A blog is where an author on the host, creates an entry or article, or posts with a minimum of 300 words and includes images & videos. In that entry, the author usually gives their opinions in the form of an article, and its post can also receive comments from the visitors or users that are engaged or spent some time reading. The most common blog platform that we see today would be WordPress, Blogger, Wix, Cabanova, Medium, Bloglovin', Weebly, Strikingly, and more.
Top 20 Blogging Website List:-
https://www.jimdo.com/
https://evernote.com/
https://slashdot.org/
https://www.tumblr.com/
https://www.linkedin.com/
https://www.apsense.com/
https://www.yola.com/
https://penzu.com/
https://www.zupyak.com/
https://medium.com/
https://www.bloglovin.com/
https://www.cabanova.com/
https://www.site123.com/
2. MicroBlog
The second one, social media platform would be microblogs. A microblog is similar to a blog, but of course, micro means small, so authors don't post long entrance into a microblog. These are short status updates, often with an outbound link to long content. A couple of common microblogging sites are as follows:
Top Microbloging Website List:-
https://www.plurk.com/
https://gab.com/
https://www.reddit.com/
https://vk.com/
https://tribe.so/
http://www.apsense.com/
https://ello.co/
https://mix.com/
https://www.pearltrees.com/
http://www.scoop.it/
http://www.folkd.com/
https://www.diigo.com/
http://list.ly/
https://slashdot.org/
http://ttlink.com/
3. Image Sharing
The third category of social media platforms that we see today is image-sharing sites. You can share images, infographics, and other graphical stuff related to brand promotion, marketing, and share information that can surely attract a targetted audience. Image sharing is one of the essential parts of social media strategies that give a positive impact on your business. Too popular image-sharing sites are Instagram, Pinterest & Flickr. In this users upload, share, and comment on images.
Top Image Sharing Website List:-
Instagram
Facebook
Pinterest
Tumblr
http://www.weheartit.com/
https://www.mediafire.com/
https://imageshack.com/
https://justpaste.it/
https://postimage.io/
https://imgbb.com/
https://www.shutterfly.com/
https://vk.com/
https://myspace.com/
http://www.scoop.it/
http://imgur.com/
https://twitter.com/
4. Social Networking
Another type of social media platform would be social networks. In this members can connect with other people and share personal information like interests, photos, and status updates. Two common social network platform is Facebook and WhatsApp.
Top Social Networks Website List:-
Facebook
WhatsApp
Twitter
LinkedIn
YouTube
Pinterest
Instagram
Tumblr
Snapchat
Vimeo
Mix
Digg
Viber
WeChat
5. Social Bookmarking
The next type of social media platform would be Social bookmarking. Social bookmarking sites allow users to create, edit and share URLs with other peoples or communities on the Internet. You can submit anything interesting in blog, or news articles. Once these links are shared with the community, they're tagged and organized and sometimes folded on. Some examples would be Digg and Stumble upon.
Top Social Bookmarking Website List:-
Google Bookmarks
Digg
Myspace
Slashdot
GetPocket
Flipboard
Diigo
Behance
Dribbble
Scoop.it
Trello
Instapaper
Folkd
Ttlink
6. Geolocation Sites
Let's talk about Geolocation sites. This is where users note their location and this allows them to find nearby services such as stores or restaurants. Let's say I'm a Customer, and I'm looking for a theatre nearby then the geolocation site will bring to my attention, all of the available theatres within a certain distance. Not only can I share my location and find services, but I see other users' reviews, and who is sharing information about that service.
Top Geolocation Website List:-
Google My Business
Apple Maps
Bing Places for Business
Yelp
Foursquare
MapQuest
MapQuest
Yahoo Local
LinkedIn Company Directory
Angi
Theknot
Zocdoc
Healthgrades
Tripadvisor
Zomato
7. Video Sharing
Another type of social media platform would be video sharing. This is where users upload, share and comment on video content. There are two famous platforms will youtube and IGTV by Instagram.
Top Video Sharing Website List:-
YouTube
Vimeo
Facebook Watch
Twitch
DailyMotion
IGTV by Instagram
Metacafe
Myspace
8. Podcast
We also see a category called a podcast. With podcasting, users download and listen to audio recordings, and content is often streamed on a regular basis, like daily or weekly. You can also follow a podcast of one of your favorite podcasters. Two very common podcasting platforms would be iTunes or SkyDrive.
Top Podcast Website List:-
iTunes
Google Podcasts
Spotify
Stitcher
Podchaser
TuneIn
iHeartRadio
9. Social News
Now let's talk about social news. In this category of social media sites, members actually submit stories or links in the form of news articles, and other people vote on the value of the content. Two popular examples would be Reddit and Hive.
Top Social News Website List:-
10. Knowledge Sites
And then finally, we have knowledge sites. A knowledge social media site is where users post questions and answers and people vote on the best answers. Examples would be asked on Yahoo and Quora, where people can post questions and answers about anything, from technical questions to health issues.
Top Knowledge Sites Website List:-
Stack Overflow
Answers.com
Just Answer
Ask.fm
wikiHow
So these are the most common social media platform categories. But within these categories, there are dozens of sites. I'm only giving you some of the most popular.